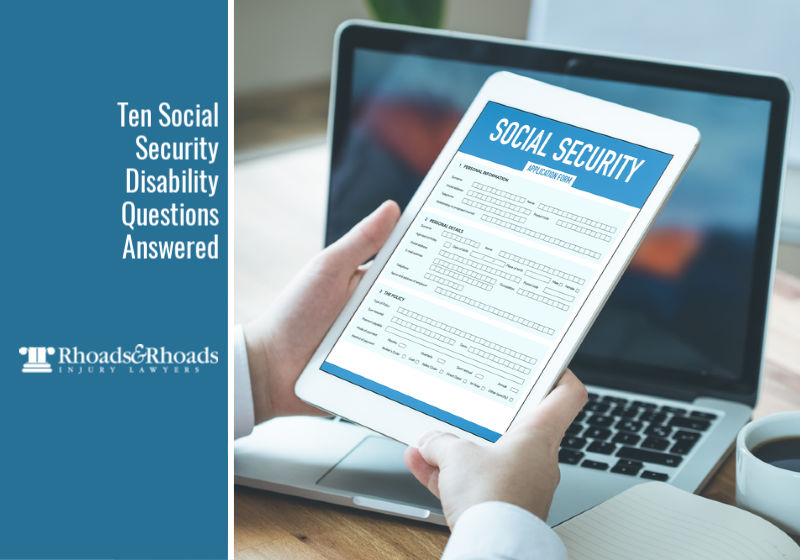 Key Points of This Article:
The Social Security Administration is currently paying an average monthly disability payment of about $1,258 to disabled workers.
Benefits may be collected after an individual has been diagnosed with a physical or mental condition that affects their ability to work and has lasted or is expected to continue at least one year or result in death.
Kentuckians have a lot of questions about eligibility, how to apply, and how to appeal a Social Security benefit decision.
Applicants of all ages, regardless of disability, are more likely to be approved and receive benefits sooner when supported by a legal team experienced in Social Security disability law.
10 Questions People Have About How Social Security Disability Works
#1. Aren't there different types of Social Security Disability benefits?
There are two distinct types of Social Security Disability benefits, and the qualifying requirements are very different. However, both require a careful review of the severity of the applicant's medical condition and disability.
Social Security Disability Insurance (SSDI or SSD): SSDI is available to disabled workers who have paid into the Social Security system through employment over the years.
Supplemental Security Income (SSI): SSI is available to people who meet specific medical and financial criteria. Your assets will be reviewed to ensure you indeed do not have access to additional resources.
#2. What makes me eligible for benefits?
To be eligible for benefits, a person must be diagnosed with a medical condition that lasts for at least a year and provide evidence of how it impacts their ability to work and causes daily limitations. Social Security has specific measurements to meet before disability benefits are granted or denied.
#3. How can I apply for social security?
Before COVID-19 concerns, individuals could apply for Social Security disability in person at a local Social Security office, by appointment. But to protect those who may have underlying conditions that put them at risk for the infectious disease, information about applying by phone is available. Call 1-800-772-1213, or TTY 1-800-325-0778 for the deaf and hard of hearing.
One of the easiest ways to apply for disability is online. This option allows for greater flexibility in terms of completing the application when convenient. The online process is also available 24 hours a day.
#4. I have cancer, can I apply?
When you apply for disability benefits, the individual who reviews your claim will refer to the Administration's Blue Book of impairments. Some cancers will not be listed but could still qualify for disability benefits with medical evidence, including physician notes, that proves you will be expected to be out of work for at least 12 months. Early-stage cancer diagnoses are sometimes not enough to qualify an individual for benefits unless their condition is severe enough.
#5. What do I need to do to apply?
Depending on the criteria related to your condition, you will need to collect a substantial amount of documentation to apply. Fortunately, the Social Security Administration makes available a detailed checklist of what is required. Obtaining these pieces can be tiresome, so before you attempt to claim benefits, we advise you to contact our office so that you don't jeopardize your potential claim or current status. The call and consultation are free, leaving behind any risk of investment to you.
#6. Can I still work if I start receiving benefits?
Yes. Some beneficiaries can return to work while collecting but only under special rules, which includes a trial work period. Part-time work is permitted. Retaining employment, if not handled properly, can affect benefits. An experienced disability attorney can provide counsel to provide better clarity.
#7. What happens if I was denied Social Security Disability benefits in Kentucky?
Even with evidence and the proper medical support, many individuals will be denied benefits upon their initial application. A person denied benefits will have 60 days after their first denial to file an appeal for reconsideration. If that first appeal is denied, an attorney will file a request for a hearing (which demands a hearing) in front of an Administrative Law Judge. The last administrative appeal would then be to file a review by the Appeals Council. If the claim is still denied, your attorney may advise filing a lawsuit against the Social Security Commissioner in the U.S. District Court.
#8. I was in a car accident and hurt my back so bad I can't work; can I get Social Security Disability?
For crash victims who are no longer able to work due to severe and long-lasting physical and/or psychological injuries, Social Security disability benefits may be available depending on the type of injury and evidence of chronic pain or a lasting medical condition. Compensation may also be awarded through a personal injury claim if another driver was at fault.
#9. My loved one has been diagnosed with fatal brain cancer, and his health is quickly declining. We need a quick decision because he can no longer work. But is it too late? Should we even apply?
Yes. You should still apply for benefits. Some individuals who meet Social Security's standards for disability benefits may also be eligible for Compassionate Allowances (CAL). This is a program designed to quickly identify diseases and other medical conditions that, by definition, meet the criteria for disability benefits under a specific impairment. CAL can help reduce long wait times.
#10. Do I really need an attorney to help me?
Before you attempt to get back to work while receiving benefits, or want to file for Social Security Disability benefits, or appeal a denial, we advise you to please contact our office so that you don't damage your current status. Your lawyer can make sure all deadlines are met, prepare and file the appropriate paperwork, identify medical specialists, and ultimately – support your case for the best chance of success.
Western Kentucky Social Security Disability Attorneys
Our job is to protect the clients we serve, including the many who have underlying medical conditions and financial hardships related to their disability. Because of this, we want you to be assured that our team can accommodate you through phone calls and virtual meetings, and in-person consultations are not always necessary. Call us at 888-709-9329 to schedule your FREE consultation today. There is never a fee unless we win your case.
Also read: 5 Injuries That Could Lead to Social Security Disability