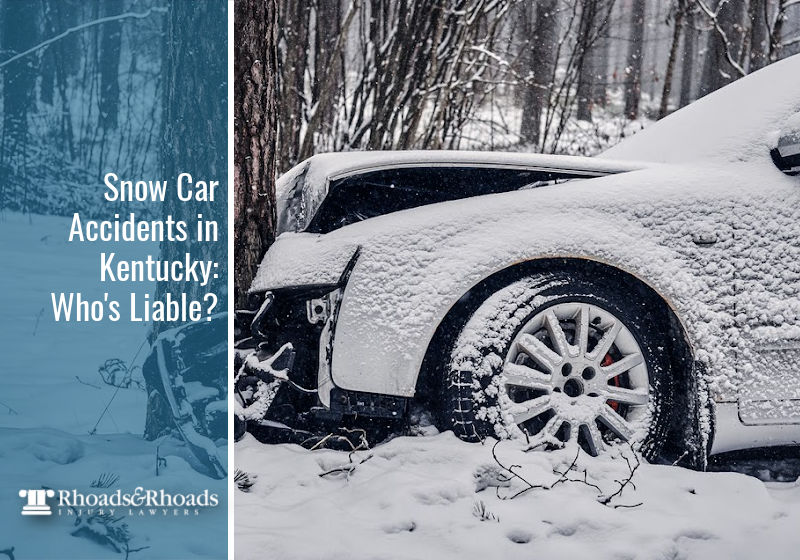 Winter is upon us, which means it's time to take extra precautions to prep for winter travel and avoid being the victim of one of the many Kentucky snow accidents that get reported. 
Car accidents are unfortunate as is, but they can be so much worse when the roads are snowy and icy. However, as much as drivers love to blame the bad weather for their accidents, it is almost always driver error that is the culprit. 
There can be situations where a snow car accident is not the fault of the driver, but it is not easy in these circumstances to determine who else could be liable. But no matter the case, if you are involved in a snow car accident this winter season, it's wise to work with a Kentucky car accident attorney to ensure the best possible outcome.
With the help of a lawyer, you can more easily gather the evidence you need to prove what happened and ensure you win a fair settlement for your claim. Even if you are ultimately the one at fault, a lawyer can make sure your insurance company pays you the full no-fault benefits you deserve. 
Who's At Fault in a Car Accident Involving Snow and Ice?
When considering liability for snow car accidents or even car accidents because of black ice, it all comes down to negligence. 
In Kentucky, the law requires drivers to operate their vehicles according to a "duty of care," which is legal jargon for driving with caution to avoid causing harm. In other words, you must drive in a manner that is considered reasonably safe and prudent.
So, if there is snow or ice on the ground and your car skids or slides, causing you to get into an accident, fault will be determined based on whether you were driving in a prudent manner with consideration for the weather. If you were not driving safely, such as by following too closely behind another car or driving too fast without consideration for the snow, then you will likely be the one at fault. 
You cannot realistically blame the weather for the accident. In most cases, the driver is the one to blame for not being more cautious, considering the fact that there was snow or ice on the ground. 
In some cases, more than one driver can be to blame. Kentucky is a pure comparative negligence state, which means you can share blame with another party. So, if you and another driver or even multiple other drivers get into a snow car accident, it may be that all of the drivers involved are partially at fault. 
In this case, if a claim is filed, fault will be assigned in percentages based on the actions of each driver involved. One driver could be 70% at fault, one could be 20% at fault, and another could be 10% at fault. It just depends on the individual circumstances. 
How to Determine Fault in a Car Accident Involving Snow
To determine who is at fault or to determine the percentage of fault if multiple parties are involved, evidence from the accident will be closely evaluated. Such evidence can include:
Video surveillance footage

Photos or videos from cell phone cameras

Skid marks on the road or in the snow

Vehicle damage

Accident reconstruction reports

Police reports
If multiple vehicles are involved in a snow car accident, it can sometimes be very difficult to determine exactly what happened. For this reason, working with an attorney is advised. If you want to make sure the right party is held responsible, you will need the help of a lawyer who can assist you in gathering evidence and discovering what happened to ensure blame is assigned accordingly. 
Does Car Insurance Cover Snow Accidents?
Yes, Kentucky car insurance does cover snow accidents, but how much is covered and who you file the claim with will depend on your individual policy and who is at fault. 
Kentucky is a "choice no-fault" state, which means you have the choice to pay for no-fault insurance coverage, or you can opt out and simply carry traditional "fault-based" coverage.
If you have no-fault coverage, it doesn't matter who is at fault. You can file a first-party insurance claim with your own insurance to recover PIP benefits, which cover up to $10,000 in medical expenses, lost income, and other potential out-of-pocket expenses. 
However, if you do not have no-fault coverage, you would need to file a third-party claim against another person's insurance company. But to do this, you would need to be able to prove that another party was responsible for the snow car accident. 
If you are entirely to blame yourself, you will not be eligible for compensation through a third-party insurance claim. However, you can still file if you are only partially to blame. 
Because Kentucky is a comparative fault state, you would simply have your compensation reduced based on your percentage of fault. So if another party is 60% at fault and you are 40% at fault, you can still file a third-party claim against that other driver, but the settlement you receive would be reduced by 40%. 
Kentucky Personal Injury Lawyers – Rhoads & Rhoads
If you are involved in a snow car accident this winter season, Rhoads & Rhoads is here to help. Our Kentucky car accident attorneys have years of experience handling a wide range of cases, including those involving winter snow and ice accidents. 
Call us at 888-709-9329 to schedule an appointment with one of our Madisonville or Owensboro personal injury attorneys. We offer free initial consultations, and all cases are taken on a contingency fee basis, so no initial payment is required.