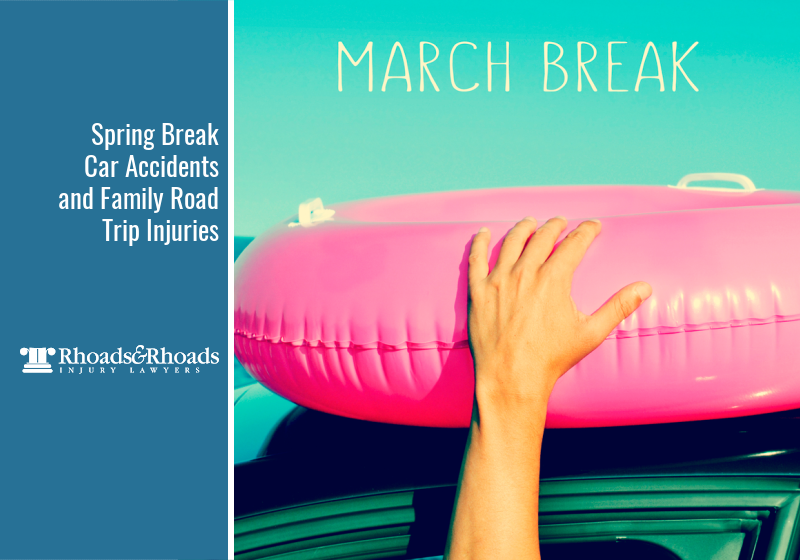 Key Points of This Article:
Traffic safety officials nationwide, including here in Kentucky, are pleading with motorists preparing for spring break vacations to respect traffic safety laws despite the appearance of fewer travelers on the road due to the pandemic.
Weather, drowsiness, distractions, impaired driving, and inexperienced operators like teens add increased hazards to the road each spring.
Know where you are headed, wear a seatbelt, stay alert, slow down, and leave a space between vehicles while traveling to your vacation destination.
Car accidents of all sorts can cause economic, physical, and mental health issues, making it essential to seek a medical diagnosis before making a personal injury claim.
Road Safety Spring Break Travel Tips for You and Your Family
The spring season is nearly here, and we are all so pleased to welcome a new season to enjoy in Kentucky. And something else exciting happens this time of year, too. More of us are anxiously planning family day trips to local destinations like Louisville, Frankfort, Mammoth Cave, and Newport, Kentucky Lake, Lake Barkley, Bardstown and spring break road trippers will soon head south to Florida and Gulf Shores. However, the increased traffic, wet roads, construction zones, pedestrians, animal crossings, and distracted young drivers make for more car and truck wrecks too. Before you head out, the car accident injury lawyers at Rhoads & Rhoads want first to make sure you have had the chance to review these spring travel tips and share them with your friends and family.
Prepare for weather-related crashes.Bluegrass drivers may feel like the rainy season is over, but the truth is, slippery road conditions and flooding is likely to happen again. Wet pavement accounts for nearly 73% of spring weather-related accidents. Drive with caution and at the speed limit. Wet roads often lead to hydroplaning.
Travel safely through work zones. As the months warm in temperature, work zones and temporary work sites pop up along highways, roads, and streets more often as maintenance and new construction projects aimed to keep motorists safe are underway. While most work zones can be identified by orange hazard cones, barrels, and workers in bright-colored clothing, motorists should depend on warnings and change in speed limit signs and flashing lights to indicate that operations ahead interrupt the regular flow of traffic.
Avoid drowsiness. Getting enough rest is a sure way to know you will be operating alert. Be sure to schedule 7-8 hours of sleep the night before starting an extended car trip.
Update your vehicle and review it for spring maintenance and recalls.Check all tires for the correct warm weather pressure, get new windshield wipers, and test your battery as well.
Remind teen drivers of their heightened crash risk. According to the Kentucky Transportation Cabinet, Kentucky has one of the nation's highest teen crash rates, even though they only account for 6% of its drivers. Parents remain the best defensive line by educating teens on the dangers of distracted driving and modeling good driving behaviors.
Never drive distracted. More and more crashes are occurring because the driver is distracted. The No. 1 distraction related to fatal crashes is texting while driving. The message isn't worth it. Put your phone in a spot you cannot access or use a 'DO NOT DISTURB' app to stop you from the temptation.
Enjoy spring break gatherings responsibly. You might only be a few miles away from home this spring break with plans to travel back on the same day. Or perhaps you are enjoying meals at a restaurant and also decide to have a few drinks. Either way, please avoid drinking or drugged driving and use a ride share service vs. operating your vehicle. It doesn't take a lot for the effects of alcohol or drugs to impact decision-making skills and ruin your spring break.
Stay buckled up. Wear your seatbelt and take the time to make sure children are fastened correctly in the right child-sized seat.
Beware of pedestrians, bikes, strollers, and motorcycles.Excellent spring weather means more people outside. Use backup cameras, make complete stops at intersections, watch for more traffic on foot, and always check twice before making a left turn.
Avoid a collision with an animal. Animals are incredibly active on the highway during the spring as they awake from hibernation or enter the mating season. This could mean that more are crossing streets and roaming around densely lined roads.
Follow These Steps If Involved in a Spring Break Car Crash
We are so sorry if you find yourself or your family in an unexpected car accident while on spring break. We understand the extra stressors these events have on people, and you should know you will get through this.
To have the best outcome, be sure you first:
Report the accident and call the police or 911 if injuries are suspected.
Work to gather as much evidence of the scene as you can, including talking to witnesses.
Seek a medical evaluation even if you have no injury symptoms and follow the doctor's orders.
Avoid giving the other party's insurance information regarding your injuries or a recorded statement.
Don't overshare accident or injury information, photos, or videos on your social media platforms.
It may also be helpful to speak with an attorney at Rhoads & Rhoads about your legal options as soon as you are ready. Our goal is to help you uncover the details needed to present your case and recover the compensation you deserve, including damages for medical bills and future medical expenses, lost wages, services, pain and suffering, and wrongful death.
Western Kentucky Car Accident Lawyers — No Recovery, No Fee
Rhoads & Rhoads has been protecting the rights of the injured throughout Western Kentucky for over four decades. We offer free initial consultations, and all cases are taken on a contingency fee basis. This means there is no payment required upfront, and there is NO RISK involved. Call us at 888-709-9329 to schedule your free consultation today.
Also read: Even with Less Traffic, Kentuckians Must Practice Safe Driving