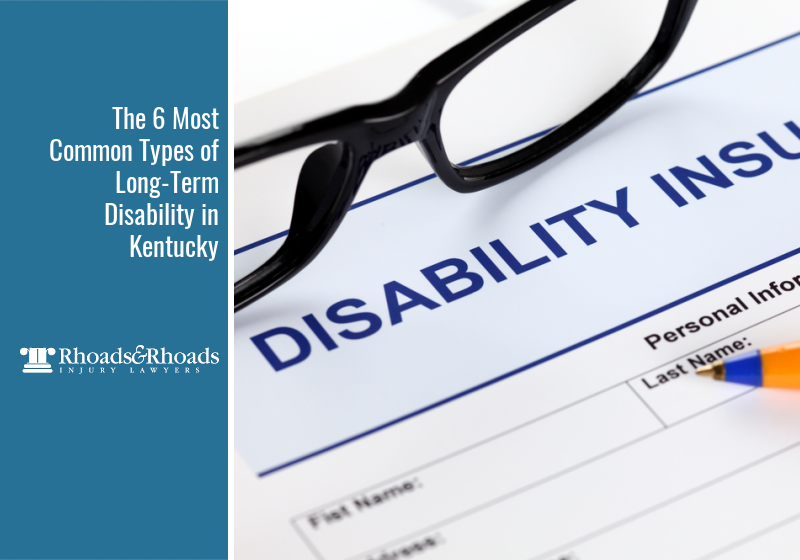 Key Points of This Article:
Disability healthcare costs in Kentucky teeter around $14 BILLION per year or up to 41% of the state's healthcare spending valued at $15,177 per person with a disability, according to the CDC's Disability and Health Data System.
Kentuckians should know they may be eligible for Social Security Disability benefits if they can no longer work due to having a medical condition that's expected to last at least one year or result in their death.
A person denied benefits could ask for a review and request to reconsider their application, an appeal and hearing by an Administrative Law Judge, and a review by the Appeals Council.
Rhoads & Rhoads attorneys take pride in protecting the clients we serve in Kentucky, including those suffering from underlying medical conditions and financial hardships related to their disability, and we work with compassion to accommodate their needs.
6 Types of Medical Conditions That Could Qualify You for Social Security Disability Benefits in Kentucky
According to the CDC's Disability and Health Data System, 1,253,016 adults in Kentucky are living with a disability. That is equal to 35% or 1 in 3 Kentuckians among those 18 years or older.
Many of these individuals are battling long-term disabilities and ongoing diseases such as fibromyalgia, chronic lung disease such as coal workers'
pneumoconiosis – more commonly recognized as deadly black lung disease, kidney disease, certain cancers, neurological disorders, degenerative diseases, and heart disease. To help, disability benefits are available through Social Security programs or their employer's worker's compensation insurance. And in some cases, disabled workers may be able to obtain benefits through long-term group disability insurance. However, the process to be approved and begin receiving Social Security Disability and other similar benefits can be long and difficult. For example, for someone to qualify, a doctor will need to determine that the disability is severe enough to prevent an applicant from working. In addition, all of the Social Security Administration's strict criteria to determine a disability must be met using the documents provided by the applicant.
Here is a closer look at the more common disabilities in Kentucky that may qualify a person to receive benefits.
Cancer – Many types of cancer may qualify you for long-term disability benefits, but some of the most common cancers include:
Breast Cancer
Leukemia
Lung Cancer
Lymphoma
Melanoma
Mental Health Disorders – According to SSA, nearly 20% of disability benefits are awarded to those with qualifying mental disorders. Individuals must have a medically diagnosed psychological condition, and it must cause an extreme limitation in an individual's ability to function independently. Other common disorders that qualify include:
Autism or Asperger's
Intellectual Disabilities
Mood disorders
Schizophrenia and Schizoaffective Disorder
Nervous System Diseases – When diseases take over a person's central and peripheral nervous system, which includes the brain, spinal cord, nerves, and muscles, it can result in impairments such as:
Bell's Palsy
Epilepsy
Migraines
Peripheral Neuropathy
Stroke
ALS
Huntington's disease
Parkinson's disease
Chronic Conditions – Chronic conditions such as musculoskeletal system diseases and immune disorders are broadly defined as conditions that persist over time and require ongoing medical attention. Some conditions can qualify for disability benefits and may include:
Angina
Arthritis
Asthma
Back pain
Chronic Lung Disease
Coronary Artery Disease
Fibromyalgia
Heart Disease
Hypertension
Kidney Disease
Blood Disorders – Acute or chronic, blood disorders can affect one or more parts of the blood, triggering the blood cells and body to not function.
Anemias
Sickle Cell Disease
Bone Marrow Failure
Hemophilia
Certain Medical Conditions – Some additional conditions or medical challenges that may make you eligible for disability benefits might include:
Blindness or Vision Loss
Chronic Pain
Chronic Fatigue
Deafness or Hearing Loss
The Social Security Blue Book provides a detailed list of medical conditions that qualify a person for Social Security Disability benefits; however, the listing of impairments is not exclusive. Therefore, you may qualify for benefits even if you don't precisely match the cited medical requirements.
What To Do If You Received a Social Security Denial Letter
On average, only 28% of Social Security Disability applications are approved on the first try. And over ten years, less than half of all applicants will be approved. Unfortunately, many applicants who rely on these benefits will be denied due to medical reasons or non-medical reasons, even adults who have been disabled since childhood. This can be difficult to hear since the process of waiting for an approval or denial decision can be long and stressful for someone with a disability and limited resources. Luckily, sometimes it is a simple fix of a paperwork error to receive an approval letter. Other times, you will have to work harder to prove your disability, provide additional medical support, correct missing details or documents, and then initiate a "Request for Consideration" form to begin another review process.
If you need help applying for benefits, are struggling to receive them, or would like to appeal a Social Security Disability denial, we advise you to contact our office so that you don't risk damaging your current status. An experienced lawyer at Rhoads & Rhoads can make sure all deadlines are met. We can prepare and file the appropriate paperwork for you, ensure you have seen the requested medical specialists, and ultimately – support your case for the best chance of helping you move forward.
Western Kentucky Social Security Disability Lawyers – Ready to Work for You
Our goal is to continue serving the people of Western Kentucky while staying respectful of any underlying medical conditions, physical, emotional, and financial hardships you have faced related to a disability. In-person consultations are not always necessary, and we can be available to meet with you in a setting that makes you most comfortable.
Call the Social Security Disability lawyers at Rhoads & Rhoads at 888-709-9329 to schedule your FREE consultation today. There is never a fee unless we win your case.
Also read: What To Do When Your Social Security Disability Is Denied