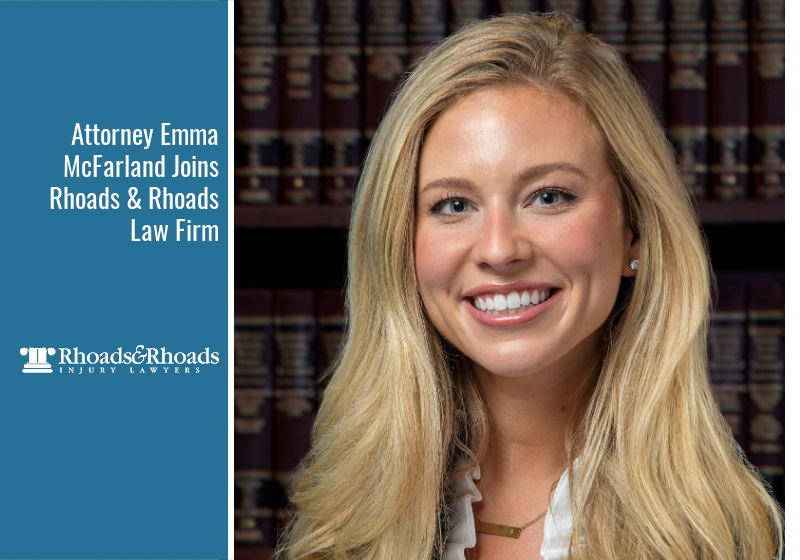 Key Points of This Article
Rhoads & Rhoads is pleased to welcome Attorney Emma McFarland to its Owensboro legal team.
McFarland will be practicing in the areas of personal injury, Social Security Disability, and Workers' Compensation.
The firm is almost exclusively personal injury law, with the main office located in Owensboro and led by attorney Chris Rhoads.
When you work with Rhoads & Rhoads, an initial payment is never required. We get paid when we win or settle your case, leaving NO RISK involved to you or your family.
Rhoads & Rhoads Welcomes Owensboro Attorney Emma McFarland
The Rhoads & Rhoads team is excited to announce Owensboro native Emma McFarland as a new attorney at the law firm. McFarland previously worked with Rhoads & Rhoads as a law clerk while attending the University of Kentucky J. David Rosenberg College of Law, where she graduated with honors. She brings with her a wealth of knowledge, attention, compassion, and excitement to her work.
"Our team has been impressed watching Emma excel over the years as one of our successful law clerks, so we are naturally thrilled to welcome her as our newest Rhoads & Rhoads lawyer," said attorney Chris Rhoads. "I know she will continue to serve as a wonderful asset to not only our clients and legal colleagues in the court systems, but also the Owensboro community."
Unique to this milestone, but not the year 2020, Attorney Emma McFarland was sworn in virtually by the Kentucky Bar Association via Zoom. Rhoads & Rhoads staff hosted a watch party to congratulate her and celebrate this outstanding achievement. McFarland will be practicing in the areas of personal injury, Social Security Disability, and Workers' Compensation.
Joining an Honest, Caring, and Leading Kentucky Law Firm

McFarland says it is a pleasure to join Rhoads & Rhoads, a Kentucky law firm she sees as not only aggressive and successful but also deeply empathetic. She looks forward to expanding her work along with the help of many brilliant legal professionals and the platform they have built within the Owensboro community.
McFarland joins attorneys Chris Rhoads, Brad Rhoads, Katie Reardon, and Samuel "Kyle" LaMar, at the firm's main office in downtown Owensboro, across from the Judicial Center at 115 E. Second St. The group of lawyers handle all types of injury and disability cases including:
Car Accidents
Truck Accidents
Motorcycle Accidents
Product Liability
Nursing Home Abuse
Wrongful Death
Agricultural and Industrial Accidents
Premises Liability
Medical Malpractice
Drug & Medicine Injuries
Brain Injuries
Social Security Disability
Workers' Compensation
And while the Rhoads & Rhoads offices are located in Owensboro and Madisonville, the firm remains active in protecting the rights of people in more than two dozen Kentucky counties, including Webster, Union, Todd, Ohio, Muhlenberg, McLean, Logan, Hopkins, Henderson, Hancock, Daviess, Crittenden, Christian, Caldwell, Breckinridge, Butler and many more throughout Western Kentucky.
More Than Just a Law Firm
For more than 45 years, the law firm has been fully engaged with life in Owensboro and the surrounding communities through providing legal support, civic leadership, volunteering, mentorship, and philanthropic partnerships. Our greatest hope is for our community to see us far beyond our work as personal injury attorneys. The relationships we have built through our long engagement with the Owensboro and western Kentucky communities are meaningful and driving forces in our daily lives, both professional and personal. We also know that when your life is turned upside down after a personal injury, we can be there to help you set things straight.
It's never the wrong time to contact an injury attorney for support, even if you think it is too late to make a claim or that you may not have the evidence you need to support a case. At Rhoads & Rhoads, we are happy to walk you through the steps and provide answers to the challenging legal questions you might have.
Rhoads & Rhoads has got your back.Bottom of Form
Reach Out and Schedule a Free Consultation with Attorney Emma McFarland
If you have been injured in an accident, if you need to apply for Social Security disability or appeal a denial, or require help with a Workers' Compensation claim, and you would like to work with attorney Emma McFarland, please feel free to give us a call. She will be happy to meet with you. As we all continue to have concerns about our families, health, employment, and more – we can reassure you that Rhoads & Rhoads is still accommodating our clients through phone calls, and virtual or social distanced meetings. And we can start that conversation today with a FREE initial consultation and you calling 888-709-9329.
Also read: Rhoads & Rhoads Lawyers Win Several Local Owensboro Awards